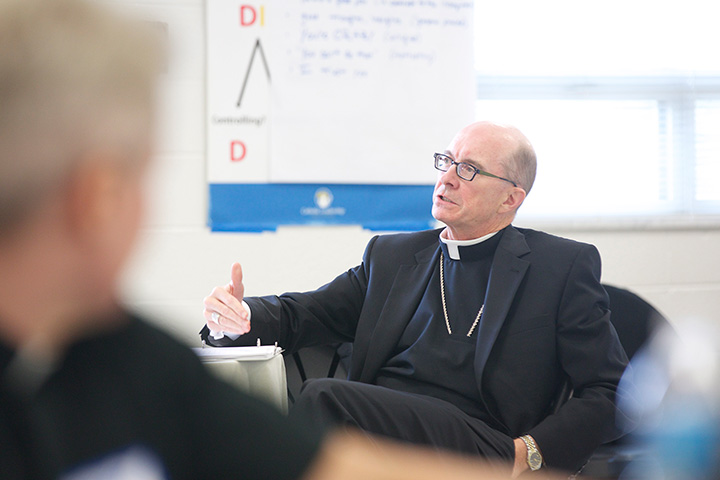 As part of Graduate & Diocesan Services, Fraternal Forum is designed for Good Leaders, Good Shepherds alumni to provide a forum of professional, pastoral, and interpersonal support. Focusing on ministry, relationships, and health, Fraternal Forum consists of four live sessions over 14 months plus online learning opportunities.
Through Fraternal Forum, priests will experience:
Strengthened application of Good Leaders, Good Shepherds content in daily parish life.
Deliberate attention to opportunities and challenges in ministry, relationships, and health.
Support in creating a Pastoral Leadership Plan.
Continued fraternal support and presbyteral unity.
Strengthened relationships with key leaders and staff through intentional conversations with a shared language and culture of leadership in context.
Curriculum Detail
Fraternal Forum is a blended learning curriculum in which priests will experience an integration of four types of learning:
Online self-paced learning
Four in-person forum sessions
Leadership applications with staff members to reinforce a culture of Catholic leadership
Individual coaching
Each session includes a morning of leadership skill-building, followed by an afternoon "forum" in which priests share their leadership challenges and offer wisdom and counsel to one another.
The skill-building covered in Fraternal Forum includes:
Session 1

Articulate SMART Goals

Assess and revise your ministerial goals
Consider goals of staff member

Session 2

Create a Healthy and Holy Parish

Evaluate the Four Disciplines in your parish
Determine how you can strengthen the Four Disciplines in your parish

Session 3

Sponsor High Impact Teams

Deepen your understanding of the sponsor's ongoing role

Session 4

Over-Communicate Clarity

Create a plan to describe the 14-month process to your parish
Determine how social media can support you in over-communicating clarity