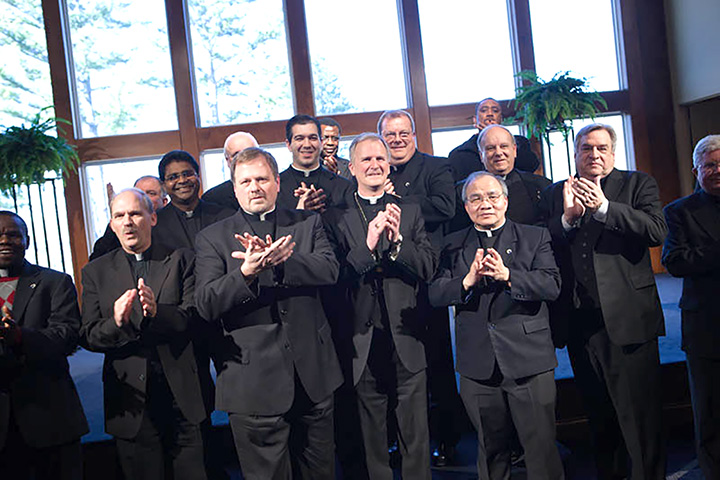 Using Jesus Christ the Good Shepherd as the ultimate model of leadership, Good Leaders, Good Shepherds is a world-class curriculum that celebrates and supports the ministry of Catholic priests.
Benefits of
Good Leaders, Good Shepherds
Vital, sustainable leadership skills and best practices designed for priestly ministry in the 21st century.
Increased confidence and competence in pastoral leadership.
Comprehensive pastoral formation in support of the Basic Plan.
Regular fraternal support; strengthened presbyteral unity.
Committed professional, prayerful assistance from the CLI team.
Diocesan witness value; quality support, care, and training for priests.
Given the demands of ministry and the complexity of running parishes—and for many priests, multiple parishes—effective leadership is paramount to creating and building authentic, vibrant Catholic communities. Good Leaders, Good Shepherds is designed to help priests overcome today's challenges of a diminishing number of clergy and more complex circumstances for priestly ministry.
Through formation in Good Leaders, Good Shepherds, priests can minimize the frustration and energy that they spend on their administrative roles, and instead, maximize the joy and time spent on the pastoral duties for which they were uniquely ordained.
Our mission is to help strengthen priestly identity, ministry, and fraternity. We believe this happens best when priests take time for themselves—in the company of one another—to learn, pray, socialize, and look to the future with hope.
Ultimately, the impact of this formation will be more holy, healthy, and happy shepherds of vibrant parish communities, leading more people to a deeper relationship with Christ.
Good Leaders, Good Shepherds is designed just for priests, so each learning module includes ample time for prayer, liturgy, and building priestly fraternity. All sessions are highly interactive, pastoral, and relevant to the vocation of priestly life and day-to-day pastoring.
Using parish-based examples, and the best of our Catholic tradition, the curriculum explores five leadership contexts and provides the skills and practices that will allow you to be a happy, holy, and healthy shepherd in any leadership circumstance.
Module 1 - Self Preparation for Leadership
Discover your own leadership behavior style and learn how to keep your instinctive behaviors from sabotaging your leadership effectiveness.
Define and proclaim your values to strengthen your priestly identity and ministry.
Investigate your overall persona and explore the tensions it creates in your life and learn to put those tensions to good use.
Module 2 - Leadership in the Self Context
Create a vision for your priestly role and identify your key responsibility areas so you can bring focus and clarity to your ministry.
Write personal goals and learn to assess your energy and ability for those goals so you can keep yourself motivated.
Learn to apply important time management skills as part of your strategy for keeping yourself on track with your goals and vision-and, a healthier life balance.
Module 3 - Leadership in the One-to-One Context
Lead and develop another to articulate his/her role, responsibilities, and goals in your parish or ministry.
Learn to give effective feedback to staff members and volunteers and to help them follow action plans and solve their own problems.
Learn to help those you lead resolve conflicts effectively.
Module 4 - Leadership in the Team Context
Review your committees and councils and learn to create high impact teams that get things done for your parish or organization (and do not necessarily require you to be a member!).
Become a part of a learning team and learn to facilitate good team dynamics and help teams solve their own problems.
Learn to plan and run effective meetings where things actually get accomplished.
Module 5 - Leadership in the Organizational Context
Create a vision for your parish or organization and determine your key ministry goals to achieve the vision.
Understand the needs of the members of your parish/organization as you lead them towards the vision and learn to respond appropriately.
Create an accessible priority plan, and learn to implement this plan through good communication as you lead your parish/organization into the future.
Module 6 - Leadership in the Relationship Context
Learn the value of Strategic Relationships in helping you fulfill your pastoral leadership with others.
Recognize the "big ideas" that can become reality through the creation and growth of a strategic alliance.
Apply the strategic alliance model to form mutually beneficial relationships with other organizations or ministries to help you accomplish your parish's/organization's goals.
References from Church Teaching
The basic principle of ongoing formation for priests is contained in Pastores dabo vobis, no. 70: one can speak of a vocation 'within' the priesthood. The fact is that God continues to call and send forth, revealing his saving plan in the historical development of the priest's life and the life of the Church and of society. It is in this perspective that the meaning of ongoing formation emerges. Permanent formation is necessary in order to discern and follow this constant call or will of God.

Program for Rooted in Tradition, 5th Edition; The Ongoing Formation of Priests
The parish priest is the proper pastor of the parish entrusted to him. He exercises pastoral care of the community entrusted to him under the authority of the diocesan Bishop, whose ministry of Christ he is called to share, so that for this community he may carry out the offices of teaching, sanctifying, and governing with the cooperation of other priests or deacons and with the assistance of lay members of Christ's faithful, in accordance with the law.

Canon 519; The Code of Canon Law
In the third millennium the priestly vocation will continue to be the call to live the unique and permanent priesthood of Christ. It is equally certain that the life and ministry of the priest must also adapt to every era and circumstance of life...determine the most important concrete tasks and the pastoral methods to adopt, and thus respond adequately to human expectations."

Paragraph 5; Pastores Dabo Vobis
References from Scripture
Do not neglect the gift you have, which was conferred on you through the prophetic word with the imposition of hands of the presbyterate. Be diligent in these matters, be absorbed in them, so that your progress may be evident to everyone. Attend to yourself and to your teaching; persevere in both tasks, for by doing so you will save both yourself and those who listen to you.

1 Timothy 4:12-16
So I exhort the presbyters among you, as a fellow presbyter and witness to the sufferings of Christ and one who has a share in the glory to be revealed, tend the flock of God in your midst, (overseeing) not by constraint but willingly, as God would have it, not for shameful profit but eagerly. Do not lord it over those assigned to you, but be examples to the flock and when the chief Shepherd is revealed, you will receive the unfading crown of glory.

1 Peter 5:1-4
I urge you therefore, brothers, by the mercies of God, to offer your bodies as a living sacrifice, holy and pleasing to God, your spiritual worship. Do not conform yourselves to this age but be transformed by the renewal of your mind, that you may discern what is the will of God, what is good and pleasing and perfect.

Romans 12:1-2
References from the Saints and other Catholic Leaders
Do not thereby neglect yourself. Do not give yourself to others to such an extent that nothing is left of yourself. You should certainly keep in mind the souls, but without forgetting yourself.

St. Charles Borromeo
If we want to become spiritual stones suitable for building up the spiritual edifice of the church, we must accept our fate of being cut and carved. In order to be suitable for the house, we must let ourselves be bent into shape for the places where we are needed.

Pope Benedict XVI
Consult not your fears but your hopes and your dreams. Think not about your frustrations, but about your unfulfilled potential. Concern yourself not with what you tried and failed in, but with what it is still possible for you to do.

Pope John XXIII