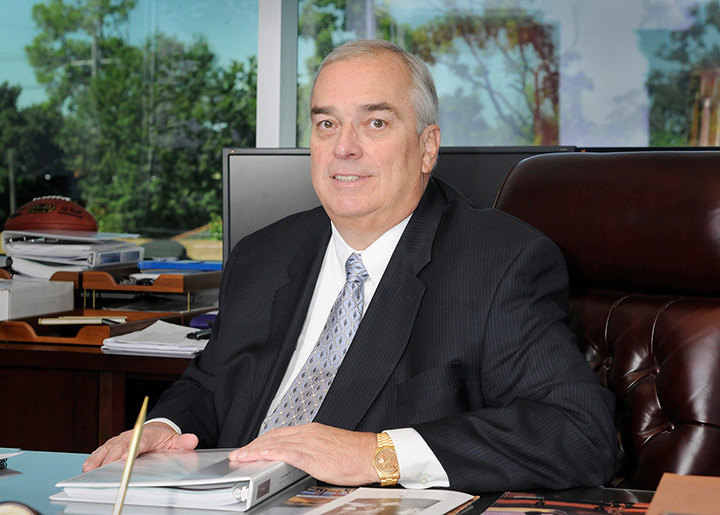 Steve Stumpf is CEO of Durr Heavy Construction, LLC, and lives in New Orleans. Steve's relationship with Catholic Leadership Institute began as the result of a remarkable story, detailed below. Steve currently serves on Catholic Leadership Institute's Board of Directors, and is a member of the New Orleans chapter of Legatus.
Q: Could you describe the moving story that eventually led you to Catholic Leadership Institute?
A: I went to Mass at a parish—not my own, I guess the Holy Spirit put me there—and witnessed the priest resign as pastor right from the pulpit. It was obvious he was under a lot of stress and overwhelmed by all of his responsibilities, and wasn't able to spend enough time in his spiritual and pastoral role. He wasn't an isolated incident—other priest friends shared that they didn't have a lot of training or mentoring, and were thrown into pastoral roles without being fully prepared. While I was searching for solutions, I came across Catholic Leadership Institute and realized this was exactly what I was looking for. Rather than reinvent the wheel, I decided to partner with Catholic Leadership Institute and start Good Leaders, Good Shepherds in New Orleans.
Q: The amazing part of this story is that the same priest who resigned just recently graduated from Good Leaders Good Shepherds and is now back in parish ministry. How did you react when you heard this good news?
A: Well things come full circle. I know he is now active in parish ministry, he has his own parish, and I understand he's doing a lot better now. I would like to sit down and chat with him and share that he was the inspiration for us to bring Good Leaders, Good Shepherds down here.
Q: As a successful businessman, what tools does Good Leaders, Good Shepherds give to priests?
A: Part of what Catholic Leadership Institute does is give priests the confidence to be effective. I think many of them are trying to find their way and Catholic Leadership Institute gives them the tools and puts things in perspective for them. They understand what's expected of them and develop the confidence and the personal strength and inspiration to be effective. I think the fraternal component is huge as well. The priests really form a bond and a relationship with the guys they go through classes with, and that continues after the course and the graduation process. Then they have people they can relate with and call and bounce things off of. I know personally I'm part of a business forum and it's such a valuable tool.
Q: What would you say to other supporters of Catholic Leadership Institute?
A: I personally think Catholic Leadership Institute is one of the most important ministries in the church today. If we can facilitate our priests becoming more effective leaders and better shepherds of their flocks, the impact that could have across the church could be exponential. The graduating classes are confirming that this is one of the best experiences they have ever had. They feel much better equipped for the job at hand, spiritually, administratively and psychologically. I just think the impact is huge.