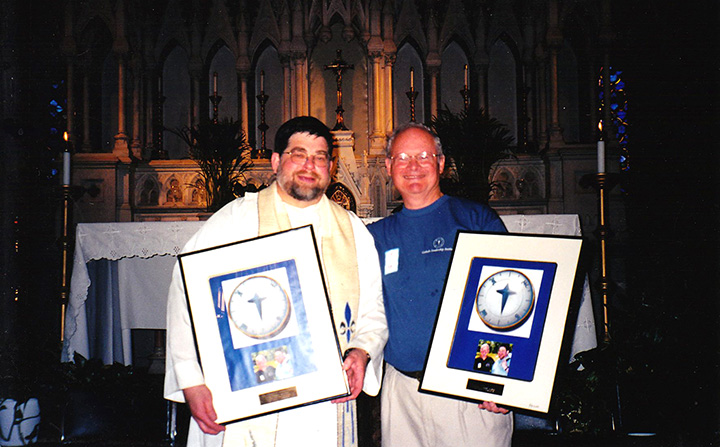 In 1990 a successful Catholic businessman, Timothy C. Flanagan, discovered his mission in life on an executive leadership retreat in Pecos River, NM. Tim felt a profound sense of calling to bring to the Catholic Church the very best in leadership and personal development programs to help people understand their purpose in life and reach their God-given potential as leaders in our world.
When he returned from New Mexico, he began to network with other Catholic leaders to share his vision. As fate (or the Spirit) would have it, Tim eventually crossed paths with Father Charles Pfeffer, then Director of the Office for Youth & Young Adults in the Archdiocese of Philadelphia. Although Fr. Pfeffer's office had many effective programs in place for the youth in the diocese, efforts to connect young adults (ages 21-39), while well intentioned, had been ineffective. Fr. Pfeffer realized that if programs for young adults were established in parishes, the key to their ongoing success would be leadership, ideally peer leadership. Where, however, could he find leaders among that age group who possessed the self-confidence, courage, skills, and faith to undertake such a challenging task? Well, if they don't exist, he thought, they need to be created . . . but how?
Tim shared with Fr. Pfeffer his experience with corporate training programs and his vision of utilizing those corporate methods to benefit the Church. Tim made a 10-year commitment to building a leadership course for young adults; Fr. Pfeffer committed the services and facilities of his office and staff; and thus was born the Catholic Leadership Institute. The two men drew on Tim's experience with the Pecos River Learning Center, a division of Aon Consulting, founded by well-known corporate consultant Larry Wilson. They specifically adopted the Center's course entitled Leaders Experiential Adventure Program (LEAP). The LEAP course was designed to serve as a "wake-up call," alerting participants to the fact that they have a unique purpose in life and the power to effect positive changes in their personal lives and their careers.
For the first five years, with an all-volunteer staff, Tim and the Catholic Leadership Institute ran the Leaders Experiential Adventure Program for young adults and other parish and diocesan leaders. In the mid-90's, other programs were added to continue the leadership development process for graduates. All courses used Jesus' example as the ultimate model of leadership and helped participants to live their faith in all aspects of their life.
In 1999, Matt Manion, a successful marketing executive and graduate of Catholic Leadership Institute approached Tim and Fr. Chuck. He offered to volunteer a year of his life to serve the organization in a full-time capacity as Executive Director in order to move the organization to the next level. With Matt running the day to day operations, Tim was able to shift his focus and develop an outstanding Board of Directors and Catholic Leadership Institute continued to flourish. In January of 2003, Tim sold his financial services company to devote his energy full-time to Catholic Leadership Institute as Founder and Chair of the organization. Matt was then elevated by the Board of Directors to President and CEO.
Under Tim's leadership and the direction of the Board of Directors, Catholic Leadership Institute expanded its leadership development curriculum. In late 2003, CLI introduced the Pastoral Leadership Institute (PLI) to priests of the Archdiocese of Philadelphia. The Pastoral Leadership Institute was the forerunner to our present day, Good Leaders, Good Shepherds curriculum.
Now in its 21st year of operation, Catholic Leadership Institute has reached national prominence; ministering with priests, diocesan and lay leaders in over 70 United States Dioceses.
The two-year ongoing priestly formation curriculum Good Leaders, Good Shepherds offered by Catholic Leadership Institute, combines the science of leadership with the teachings of Jesus Christ and the Catholic Church. Through this process, priests are taught more efficient and effective ways to lead, inspire and motivate their flocks.
In May 2009, Catholic Leadership Institute launched a parish leadership program for diocesan and parish staff leaders titled, Tending the Talents a complementary curriculum to Good Leaders, Good Shepherds that seeks to strengthen the overall quality of ministerial relationships and increase the quality of parish life and leadership. Catholic Leadership Institute evolved its post-graduate services (officially known as Graduate & Diocesan Services) to support the ongoing application of best practices, continued formation in leadership skills and intentional fraternal support begun in Good Leaders, Good Shepherds. These services include: Fraternal Forum, Personal Leadership Coaching and Tending the Talents, which are offered through a blended learning program of online activities, classroom discussions, and parish application.
With the encouragement of its partner bishops, Catholic Leadership Institute sponsored an unprecedented ongoing leadership formation for Catholic episcopacy July 2009 at the Cooper Lodge in Dallas, Texas. The session focused on instinctive leadership behaviors, developed values and versatility as a bishop. The bishops spent time understanding the instinctual behaviors that can help and hurt one in ministry. Since the inaugural session, over 100 arch/bishops have participated in CLI's ongoing leadership formation sessions. Other topics have included Power & Grace of Vision, Discerning, Defining, and Implementing Pastoral Priorities and Effective Media and Communications Strategies.
In 2011, Catholic Leadership Institute expanded its services, once again, to include diocesan consulting. In this area, Catholic Leadership Institute works directly with the bishops and their teams to develop a tailored diocesan strategy. Of the more than 20 consulting engagements Catholic Leadership Institute has facilitated since then, partnerships with Archbishop Wenski in the Archdiocese of Miami and Sean Cardinal O'Malley in the Archdiocese of Boston are among the most significant.
From the idea of one businessman, Catholic Leadership Institute has grown into the only Christ-centered; Catholic focused leadership training organization in the United States.